BRINGING PHYSICIANS TO THE EMERGENCY
MD1, Inc., a nonprofit corporation, is a first-of-its-kind charity focused solely on bringing doctors to the site of emergency situations with fixed-wing medical planes. To put it simply, MD1 brings the emergency room to the patient, instead of vice versa.
Beginning in New Jersey, but with a goal of organic expansion, MD1 deploys highly-trained physicians to the sites of crashes, accidents, strokes, heart attacks, natural disasters, mass casualties, and other emergencies requiring advanced life support, where minutes, even seconds, can mean the difference between life and death.  Far from acting alone, our doctors work as part of a team of emergency response personnel, all dedicated to making sure that the most critical patients are alive when they reach the hospital.
MD1 brings the emergency room to the patient where minutes, even seconds, can mean the difference between life and death.
Watch this video, as Dr. Oz interviews Dr. Mark Merlin, Founder and CEO of MD1:
The MD1 program has been developed over the past twenty years by our founder, Dr. Mark A. Merlin (radio call sign "MD-1").  Dr. Merlin is one of the foremost authorities in out-of-hospital physician responsive services, both regionally and nationally.
To be clear, Dr. Merlin's brainchild is not new; indeed, some form of it has been operating in New Jersey for years. For example, Dr. Merlin founded and directs the EMS Fellowship program (https://www.facebook.com/EMSfellowship/), an ongoing fellowship training opportunity for qualified applicants. However, the component parts of MD1 have been scattered over a number of different organizations and funders, with the only unifying thread being Dr. Merlin.  As a result of this ad hoc structure, MD1 has never been centralized enough to be able to raise funds from donors and other charitable sources.  The formation and operation of our organization is meant to solve that problem.
MD1 operates as a 501(c)(3) charitable foundation, a physician-response organization that deploys its physicians to guide and assist paramedics, EMTs, Nurses, PAs, and other physicians throughout the world using fixed-wing medical planes with flight physicians, nurses, and paramedics. The MD1 program is centralized into a single organization that enables it to withstand changes in management. MD1 will be a stand-alone organization that is not affiliated with any hospital or other healthcare organization, and its services will be provided without qualification to the general public. To the greatest extent possible, we want to provide these services free of charge. Thus, we rely on donations and subscriptions to provide this vital service, and we gratefully acknowledge our generous contributors for their support. 
Want to learn more about MD1?
 The patients receive the latest care at their location when they can't, or prefer not to, get the care in the traditional healthcare setting. For example, a patient who is trapped in a car can now receive the same care they would in the ER. Previously, patients would have died from their injuries, but now they can be saved by these out of hospital highly specialized doctors.
The MD1 Team will go anywhere in the world with our state-of-the-art equipment to save a life when seconds count. We provide the following:
Blood work
Ultrasound
Transesophageal echocardiogram
Suturing
Antibiotics
60 medications
Surgical equipment and procedures
Cardiac monitoring
Central lines
The accompnaying chart gives you an idea of the viability and importance of MD1. From January 1, 2018 to the end of February 2019, we responded 1549 times, with on-scene medical control of 273 patients, and we saw 170 critical patients.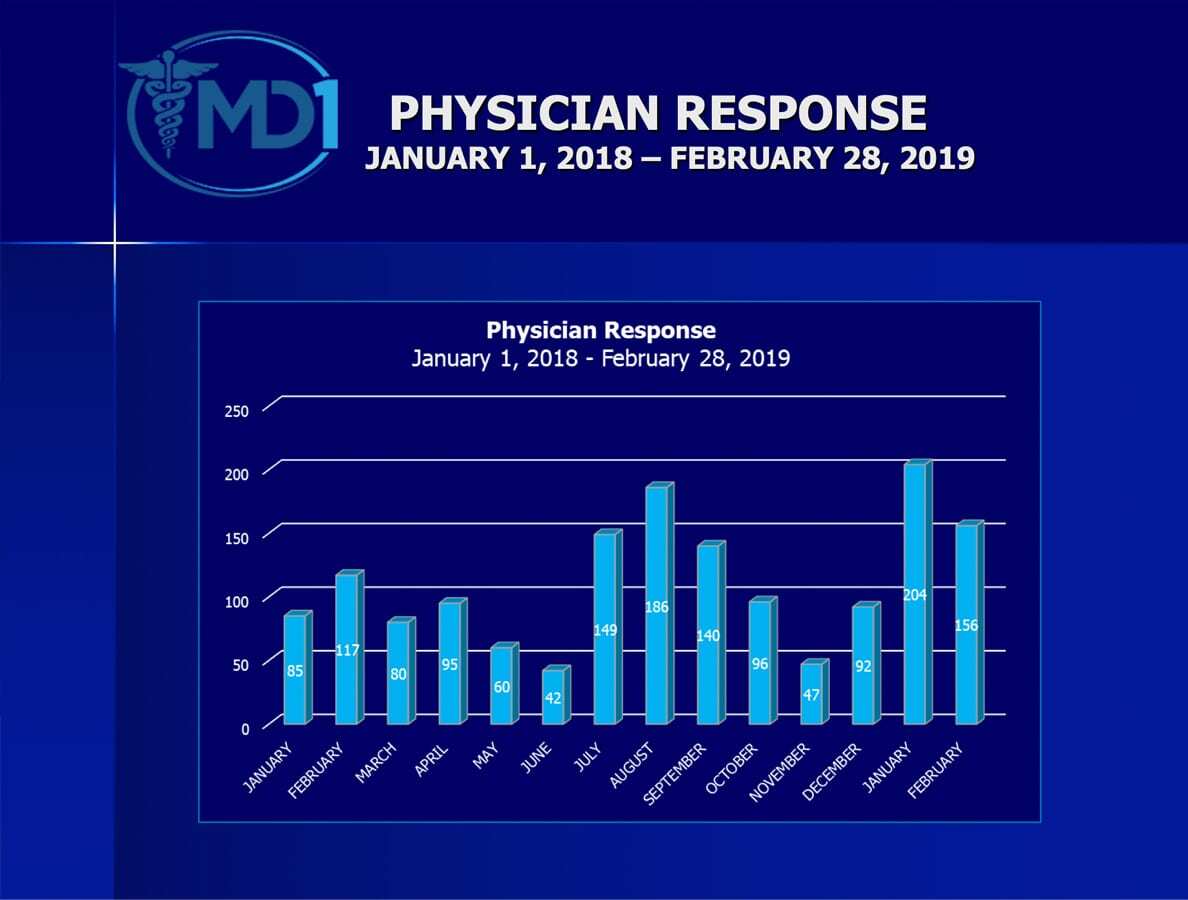 Physician Responses, January 1, 2018 – February 28, 2019
The services provided by MD1 cost a lot of money. Instead of sending patients bills for thousands of dollars, the MD1 program, which is free to patients, relies on partnerships and donations of money and equipment to provide this unique care.